PAST NEWS:
Blackcat Elliot Featured on The Times Union Arts Cam
Members of Blackcat Elliot, The Velmas, and the Mark Frederick Band share tips on making it in the biz during the last CRUMBS Nite Out mixer for musicians and music industry professionals.
Check out the clip on the Times Union entertainment page here
or just watch it below:



Below is the Only One You Have video from the Best of Crumbs Night Out. Recorded at The WAMC Linda Theater. Watch it!
Video recorded LIVE by Best Bytes Media on Thursday, May 22 2008


Them Cats Do Have Nine Lives / 2008
The houses are almost sold, the souls are sold, our hearts viciously trampled on and our blood sucked dry. Balboa and myself sure have the bruises to prove it. Some of our friends and felines know the hell we are going through with our personal lives but the band is still kicking. Thanks to Big Frank for filling in on bass duties for the time being. Speaking of the bass player situation, the job is almost filled as we have two to three dudes that are about to be chosen for the crazy job. We are still keeping away from lawyers, ex-wives, ex-girlfriends, haters, downers, stalkers, cops and any battle of the band gigs. New album? ah yes, we are definitely recording a new album. I'm looking at the Fall for the recording with a Winter release. Like the previous two albums, the next disc will be done by our own means. We are firm believers of the DIY approach. With the support of club owners and our friends and felines, we're hoping to have a new disc soon. Until then, we'll catch you at the next show

Goodbye 2007 Hello 2008
Friends and felines, it's been quite the year for Blackcat Elliot to say the least. Rachel Ray made a surprise appearance at one of our gigs (and dug our set). We performed at Bellstock 2007, we were selected as one of the area's "Top Ten Rock Acts in The Capital District" by The Times Union and shot a video for their "Best Of 2007 Issue." We performed at Larkfest with Buffalo Tom, Steriogram, Astra Heights and more. We did an interview with crumbs.net that got us in deep, deep trouble. Ahem. We got to share the stage with Hamell on Trial, The Charms and legendary rock icons The Fleshtones. It was an honor to be part of the "Scott Dorrance Benefit CD" which was recorded live at P4th with a bunch of great local bands. So, a big, big thanks to all our friends and felines for making 2007 an awesome year for the band. Lets make 2008 just as fun! Happy New Year everyone.

Blackcat at Larkfest. The Biggest Outdoor Event in NY / 2007
An estimated 80,000 people attended this years event and we were a part of it. It was quite the experience to say the least. Thanks to our friends and felines, WEQX/102.7 for inviting us to perform and the event staff for all the free beer. Check out Larkfest photos here

Listen. Laugh and Drink. Top Five Interview on crumbs.net
The Blackcat Elliot segment on crumbs.net. Listen to our interview that everyone is talking about. PLUS three songs recorded acoustically including "She's Got Friday Night" listen to the interview here

Blackcat Elliot Supporting Our Troops Overseas
"Hey guys – I just got back across the pond from Afghanistan. I just wanted to say me and several of my buddies really liked your CDs that came in a care package. You guys rock. Definitely keep it up and thanks again for the Never Come Clean CDs. They really remedied our lack of decent, new music."
– Sgt Richard Jolliff, U.S. Army

Tour Tips by Blackcat Elliot
An informative article on what to do before your act hits the road. Written by Jason Irwin for The Chronicle magazine in Glens Falls. Read the article here

Whats In Our Name?
An article on band names written by Philip Schwartz for The Gazette. Read how the Blackcat Elliot name was developed here

Rachel Ray Becomes A New Blackcat Elliot Fan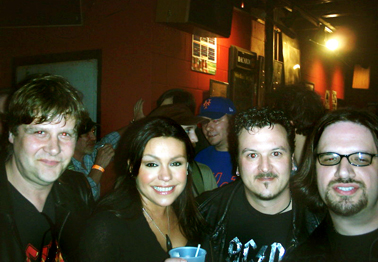 We were fortunate enough to have Rachel Ray at our recent rock n roll show at Valentines. She dug our set and picked up our new album which we signed for her. The show featured The Cringe and Phillips Head who played great sets.

Blackcat Elliot at The Legendary Continental Club in NYC
We were psyched to perform at this great club before the doors close. This is where Joey Ramone played his last gig. Read a letter from Wood and see photos from our performance. Our set was recorded LIVE from this show and is currently getting mastered. Details to come on who gets a copy.

Blackcat Elliot Signs with New York City Booking Agency
Frank Wood Promotions for three wonderful years and continue to rock the five burroughs with great acts from The Big Apple.