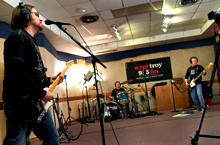 BCE from left to right:
Gus / vocals / guitar
Marky Balboa / drums / cigarettes
Fast Eddie / bass / six-packs

Barely superstitious.
Blackcat Elliot, a popular local band, releases its second CD.
After the breakup of his band North Again, Kostas Gus Hais said to himself, "Never again." But he's learned to never say never, especially to the rock n roll bug, so he is back in the spotlight with Blackcat Elliot, who have quietly become one of the Capital Region's most popular bands.

Don't believe me? Blackcat Elliot has taken the runners-up spot in the best local band category in the Times Unions Readers Poll in each of the past four consecutive years. They took the top spot in the Capital Region Living readers' poll, and they were named "best-kept secret" in Metroland's readers' poll. Well, Blackcat Elliot isn't going to be a secret any longer. The high-energy, go-for-the-throat indie rockers have just unleashed their sophomore CD, "Never Come Clean" on Billbored Records.
Recorded at Albanys Scarlet East Studio and produced by John Delehanty, the nine-song disc crackles from the big buzzing bass riff of the opening title track right through to the hooky pop-in-overdrive closer, "Close to Mine." These guys - drummer Marky Balboa and former bassist Johnny Mystery, in addition to vocalist/guitarist Gus - certainly know how to wield the ever-popular power chord with finesse. More importantly, they cleverly fuse together a down n dirty rock sound with catchy pop hooks.
Local radio has taken notice: 104.9 THE EDGE / WEQX 102.7 FM / WHRL 103.1 FM and UAlbany's infamous WCDB 90.9 FM each have BCE in rotation. The trio also have been giving the new material a serious statewide litmus test, doing guerrilla-style jaunts to New York City and all points north and west to spread the word, drink cold beers with new fans and bust out of the proverbial everyday cage.
The current Blackcat Elliot brings to mind the stylings of raw, adrenalized, rock like their heroes The Clash, The NY Dolls, The Ramones, KISS, AC/DC, Social Distortion and Nirvana. If you like the sound of guitar driven rock than catch Blackcat Elliot live.

Portion of this bio was taken from an article written by
Greg Haymes for the Times Union. Band photo by Al Goldberg.

Bonus: Articles on the new "Never Come Clean" CD here